Thanks to the benefits of the exhibition "ITINERANCE" including the works of Bruno Moinard at the Diane de Polignac gallery, the association 4 couleurs had the immense honour and pleasure to be able to support the association Haiti Piano Project.
The cheque presentation took place at the Atelier de Pleyel showroom at 93-95 Avenue Daumesnil 75012 Paris.
"Isn't a civilisation without music doomed to failure? We therefore fully support Célimène Daudet's beautiful project concerning this first music festival that will take place in Haiti from 8 to 15 November 2017. What a wonderful idea to finance the specific manufacture of a concert piano adapted to the climate for this music festival.
This will be accompanied for a whole week by an educational project, notably with artistic creation workshops for children. Throughout the festival, different forms of music will be performed, including classical, jazz and traditional Haitian music.
We congratulate Célimène Daudet and Karima Merabtene, president of the association Raconte moi un piano /Haiti Piano Project, and all their teams for this initiative.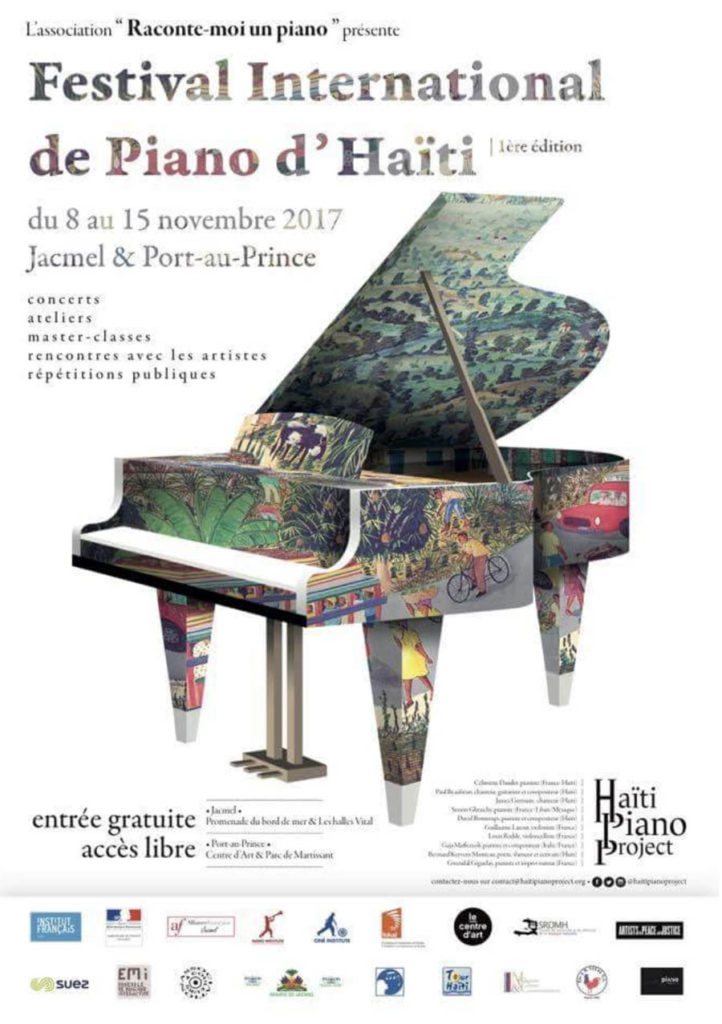 We would particularly like to thank Mr Bruno Moinard for his remarkable artistic work as well as the Galerie Diane de Polignac and its team for their participation and support for this project.
We would also like to thank Laurent Couson and Charles Schillings for the wonderful concert they gave us during the opening. A big thank you to Eric Provent who created the opportunity for this wonderful adventure! Special thanks to Laure l'Eleu de la Simone for her unwavering support in the organisation and staging of this event. We thank Christian Demart and Gilles Bastianelli for their artistic vision.
We would like to thank Anne-Emmanuelle Khan of the Maison Pleyel for her support. Thanks also to Julien Couson, Eric Lamy and Boris Pollet for the visual immortalisation of the evening. Finally, we would like to thank all the artisans who contributed to support this beautiful event and more particularly the workshops of the show, Betty nu food (Cecile Van Lith and Patrick Amsallem), C'events and its president Cécile Boyer, Claire Chataignier, Emeric Thibierge and Stéphane Trillaud, and we don't forget the volunteers Lucie Clément, Perceval Provent, Leila Altamirova for their daily work.