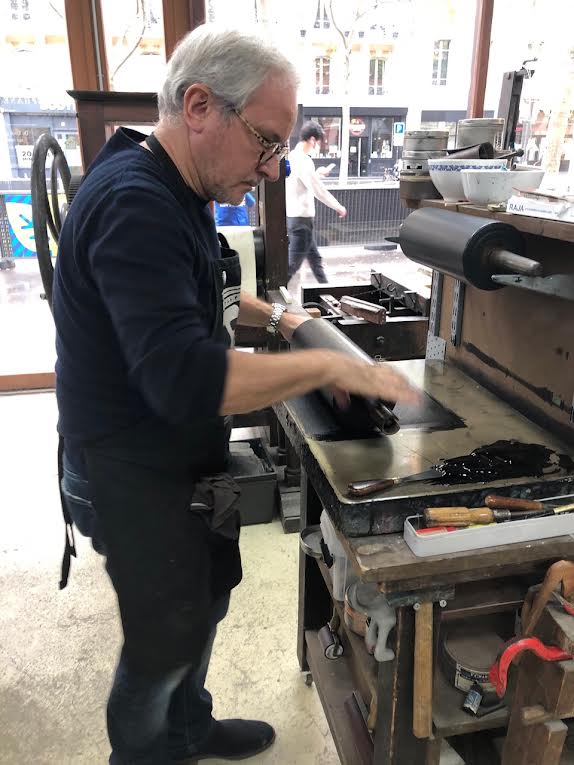 PRÉPARATION DE « CARNET DE VISAGE »
Stéphane Guilbault a imprimé les gravures sur bois des dessins de Jeremy kapone issus du livre « Carnet de visage ».
STÉPHANE GUILBAUD studied at the Fine Arts School in Paris and started working as a lithographer at the Atelier Desjobert in Paris in 1979. For fifteen years, he was the head of the Atelier Arts Litho, where he offered his expertise to numerous artists, gallery owners and international publishers, particularly American and Chinese. He has worked alongside contemporaries such as Zao Wou Ki, Pierre Alechinsky, Oliver Debré, Francis Bacon, Arman... A member of the Grands Ateliers de France, Stéphane Guilbaud continues to pursue this same energy today, having had the honour in 2010 of receiving the title of Master of Art; he also strives to train those who will bear the very special responsibility of accompanying a work of art, an image in the making.
Under the luminous stone vaults of the prestigious Viaduc des Arts, in the heart of the twelfth arrondissement of Paris, the Atelier dedicates its space and its know-how to printmaking techniques. On stone, metal or wood, with a hand press or from the top of the hundred-year-old Voirin press and its 80 x 120 cm format, a whole part of the history of art printing is on display. It is also, and above all, in order to be at the service of today's contemporary creation. C'est dans ce contexte que Jeremy Kapone réalise ses gravures pour le projet « carnet de visage »
L'association quatre couleurs a imprimé le volume 1 de « Carnet de Visage » dans le sud-ouest de la France en collaboration avec la maison Escourbiac afin de réduire l'empreinte carbone en fabriquant localement de manière éco-responsable.
L'imprimerie Escourbiac a obtenue en 2003 la certification Imprim'vert. Trois fois Lauréat du Cadrat d'or (2003/2009/2014) Escourbiac is désormais hors concours : une imprimerie ne peut obtenir plus de trois trophées de ce type. L'imprimerie a doublé sa surface de production en 2019, grâce à un nouveau bâtiment entièrement recouvert de panneaux photovoltaïques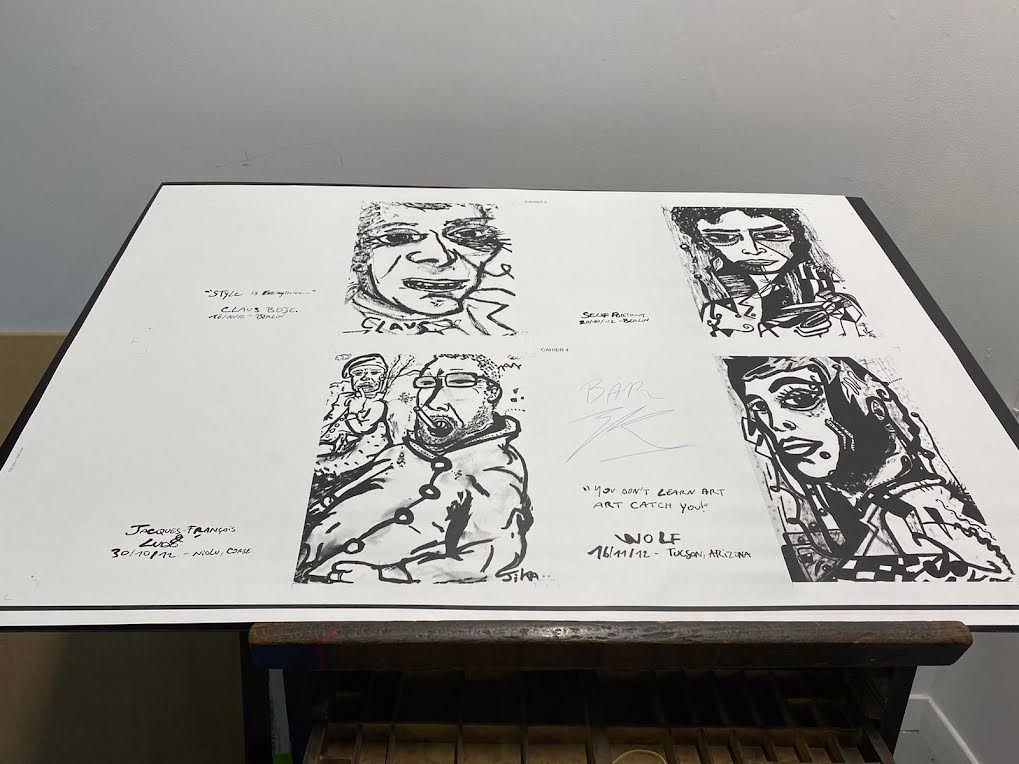 TOTE BAG                                  THALIE X JEREMY KAPONE
Quand l'art rencontre l'artisanat. Le talentueux Jika su magnifier les sacs Thalie en leur offrant un écrin à la hauteur de la marque pionnière dans la maroquinerie de luxe durable.
Les dessins de Jeremy qui y figurent reprennent les éléments de langage de la marque THALIE (Fleur de lys Florentine de la terrasse de la créatrice symbolisant la renaissance, Thaleia écrit en Grec Ancient (La Florissante), les colonnes inspirées de Brancusi façon miroir du showroom VR, la muse THALIE sur le bas-relief de Janniot au Palais de Tokyo, on y voit aussi la danseuse Cléo de Mérode…