LE SECRET DES CONTEUSES octobre 2019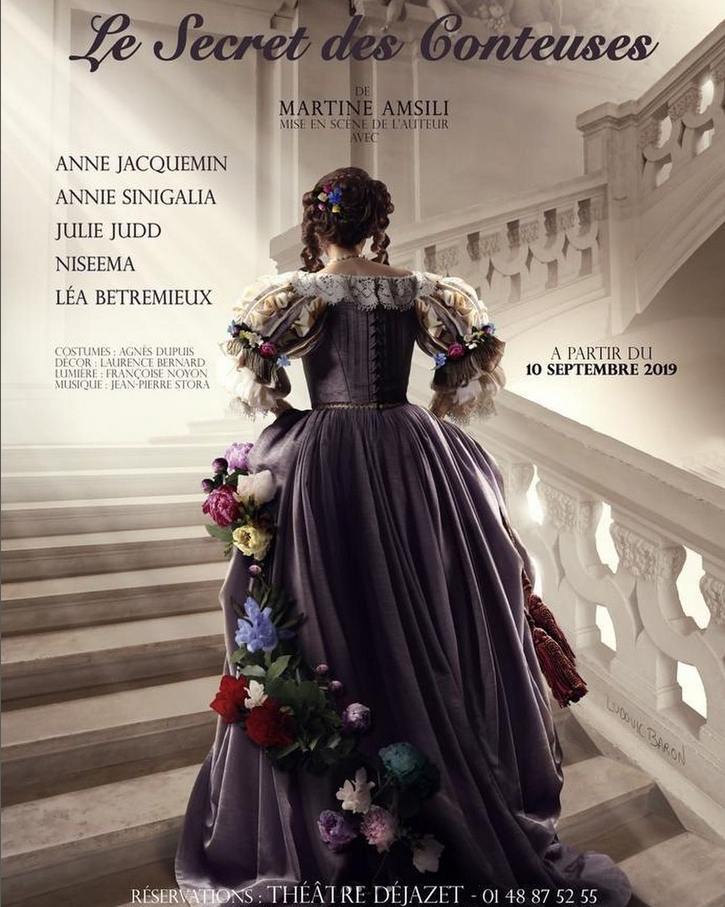 The Quatre Couleurs Association relie de façon transversale l'art, la mode et les savoir-faire français. C'est donc tout naturellement qu'elle accompagne avec plaisir Martine Amsili and le théâtre Déjazet dans la création de sa pièce « Le Secret des conteuses ». Puisque ce sont des artisans de facture française qui ont collaboré à la création et à la fabrication du décor, des costumes, du mobilier, ou bien encore des accessoires, une exposition itinérante des réalisations de ces artisans allant de Paris à Saint Petersbourg, Moscou et New York aura lieu afin de mettre en avant le talent et la passion de ces façonniers, de ces maîtres-ouvriers français..
Agnès Dupuis, a conçu et réalisé les costumes.
Rubelli, cette entreprise familiale italienne utilise un savoir-faire et des techniques uniques qui datent du XVIe siècle
Laurence Bernard signe la scénographie de la pièce
Henryot & Cie, manufacture de meubles

Charles BURGER, pour les colorations, les imprimés.
Edmond PETIT, se démarque par la qualité et l'originalité de ses étoffes
Éléonore de Staël, crée pour l'occasion un parfum sur mesure.
Luc Kieffer est un créateur de bijoux d'exception,crée des colliers et accessoires pour la pièce.
Fayet a su préserver toute son authenticité dans la fabrication de ses cannes  fabriquées avec des matériaux nobles.
Taher Mardini bottier et créateur de chaussures sur
mesure.
Julie Ducroo, maquilleuse professionnelle, utilise des produits 100% naturels éthiques et bio avec sa marque vegan Miss W.


l'atelier A&R Antoine Wauquier frabrique les perruques
Emeric Thibierge, le maître du papier, réalise le programme du spectacle.
Anna Marchlewska, photographe et graphiste prend les photos des invités pendant la soirée, réalise le carton d'invitation, le programme et le dossier de presse.
Le Champagne Arlaux, accompagne les invités, partenaires, mécènes, professionnels du théâtre dans la deuxième partie de la soirée
Les créations des artisans