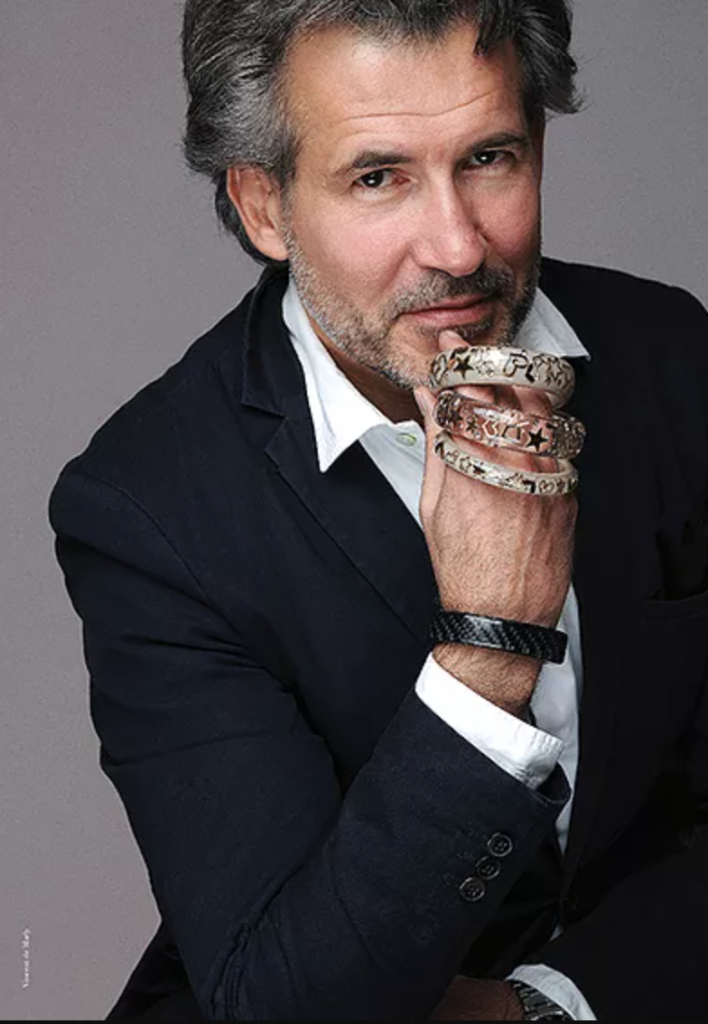 "I was lucky enough to meet Delphine Garnier at a meeting of highly qualified master craftsmen, such as silk, goldsmiths, jewellers, ready-to-wear and decorators.
Very quickly, the Quatre Couleurs association created a very creative sympathy movement around various exhibitions. It is so pleasant to work with a director as passionate and dynamic as Delphine Garnier.
His fight to defend French craftsmanship but also creation, art and design is a passion that I have always defended.
I am very happy to share this desire with the Quatre Couleurs association, which is predominant and now indispensable in the world of artists.
www.luckieffer.fr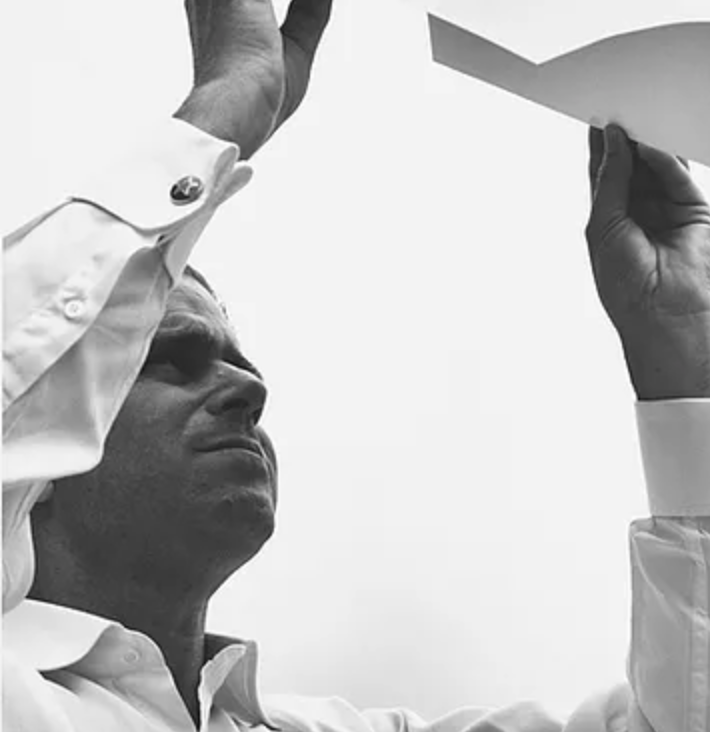 "By imagining what could be the notebook of Steve Jobs or Karl Lagerfeld, I created the Thibierge Notebook. Contemporary, intuitive, design and dare I say it, intelligent. A notebook of its time".
"I met Delphine Garnier to my great pleasure. She puts herself in 4 (- colours) to help us in the accomplishment of our job. She helps us to carry out our projects by bringing together personalities and know-how for fruitful meetings.
Great art!
Very quickly the association helped us to multiply our encounters - with the calligrapher Stéphane Trillaud, or the jewellery alchemist Luc Kieffer. Discovering other talents that only need to cross paths to generate other creations.
What a great partnership!"
www.facebook.com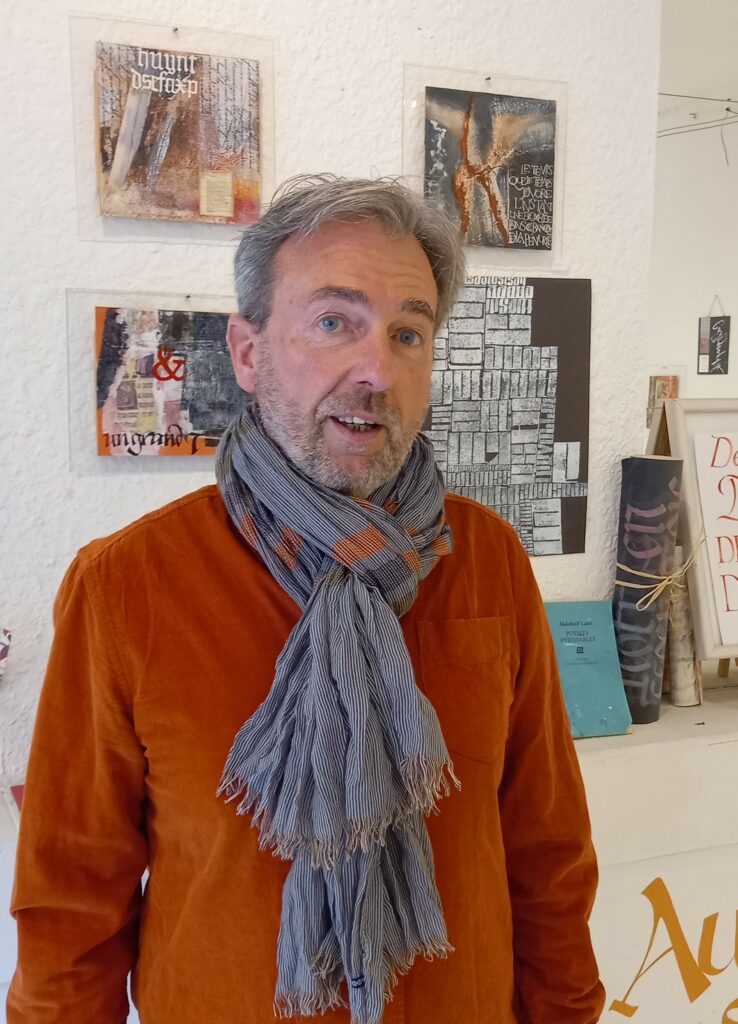 All invitations to the opening will be calligraphied by a master calligrapher, Stéphane Trillaud. Captivated by the alchemy of colours and textures, he spent his Wednesday mornings from the age of 7 onwards at the School of Decorative Arts in Blois until the age of 13. More attracted by lettering, logos and graphic design, he abandoned figurative drawing to devote himself to the study of signs and symbols.
Caught up in his love of writing, he gradually turned to Latin calligraphy at the end of the 90s, first for his own pleasure, then to train as a master calligrapher. He has been teaching for 3 years and started his own business in 2013.
https://www.calligraphismes.net/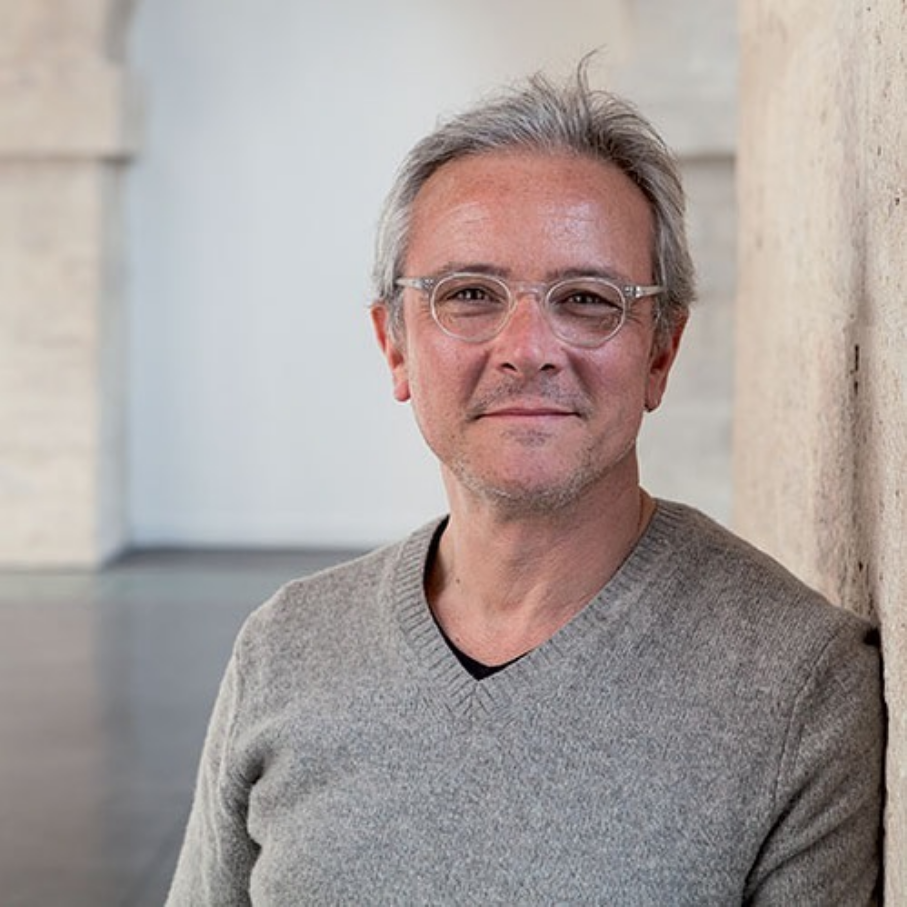 Stéphane Guilbaud débute sa carrière d'imprimeur en lithographie en 1979 dans l'atelier Desjobert. En 1985, il intègre l'atelier Art Estampe où il collabore avec des artistes de renom tels que Zao Wou Ki, Olivier Debré, Niki de Saint-Phalle, Jean Tinguely ou encore Arman. Il se met à son compte en 1995, puis reprend la tête de l'atelier Arts Litho en 1999. Fort du soutien apporté par ses rencontres passées, il développe son réseau de clients à l'étranger et finit par créer des estampes pour des musées, galeries d'art et éditeurs du monde entier.
Membre des Grands Ateliers de France, Stéphane Guilbaud reçoit le titre de Maître d'Art en 2010.
L'imprimerie Escourbiac a été créée en 1963 à Graulhet par Michel Escourbiac, alors musicien d'orchestre. Le trompettiste, passionné de photographie, a su devenir très vite le spécialiste du livre photo. En 1997, l'imprimerie est reprise par son fils Philippe, lui-même rejoint quelques années plus tard par Alain, son frère, en charge de la partie commerciale à Paris.
L'imprimerie Escourbiac obtient en 2003 la certification Imprim'vert. Trois fois Lauréat du Cadrat d'or (2003/2009/20014) Escourbiac est désormais hors concours : une imprimerie ne peut obtenir plus de trois trophées de ce type.
L'imprimerie à doublé sa surface de production en 2019, grâce à un nouveau bâtiment entièrement recouvert de panneaux photovoltaïques.
Jérôme Cordié, ébéniste d'art choisit ses essences de bois précieux et ses matières… A l'écoute de leur densité, de leurs évocations sensorielles, poétiques et symboliques. Bois durs, ébène, palissandre, citronnier, amarante, amourette, bois clairs, sycomore, charme, matières naturelles, galuchat, nacre, parchemin, le mènent aux émotions de ses souvenirs émouvants, à la fascination d'un inconnu intriguant.
linktr.ee/Aisthesis.paris